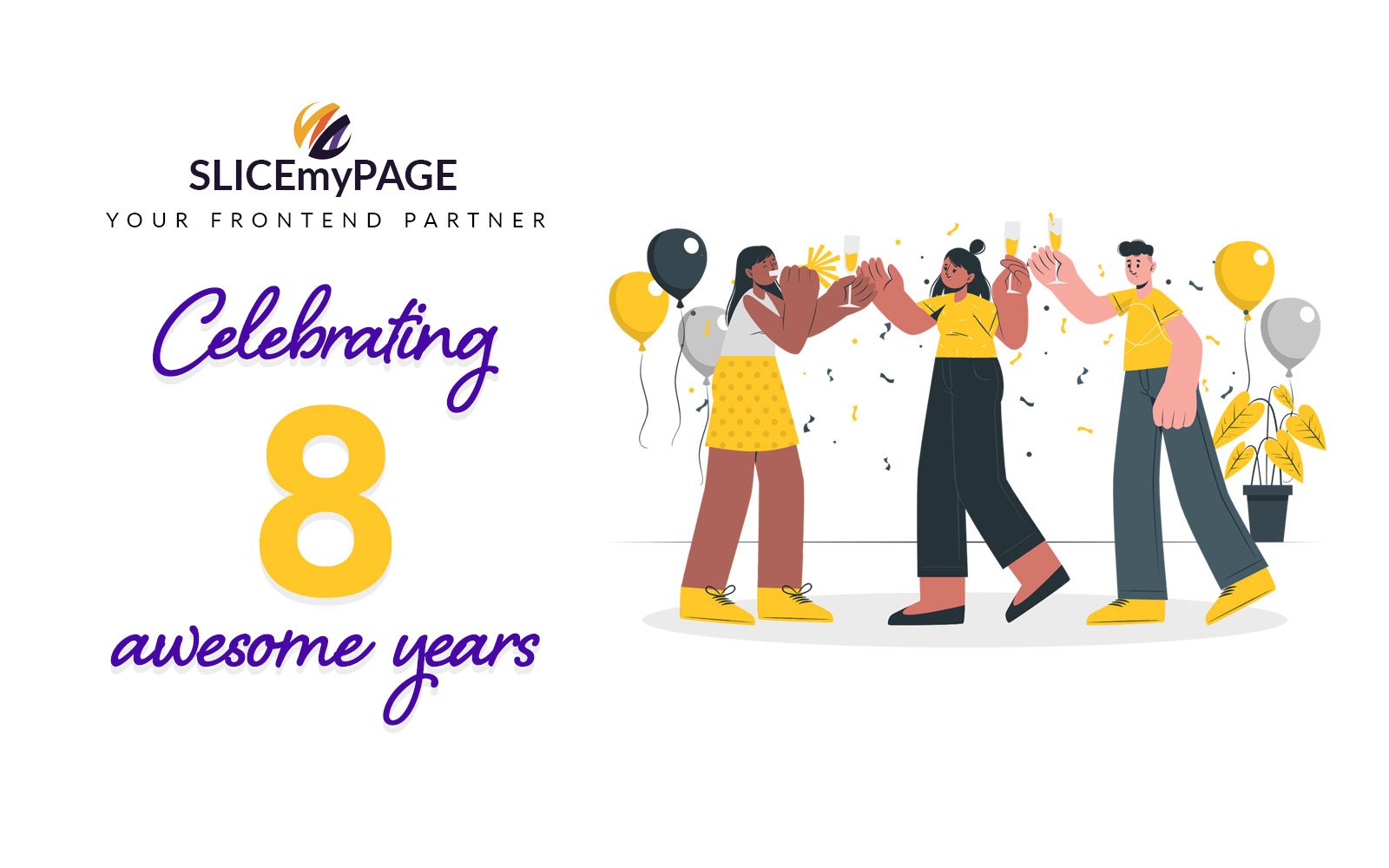 It's hard to believe, but your front-end partner SLICEmyPAGE turns 8 today. On June 26, 2013, the service officially went live.
During this tenure, we saw a lot of ups and downs. But in these years, we have made a small but successful place in this professional world. Which is a very proud feeling for us.
This journey started with just one person but today we have a dedicated team of 10 people and everyone is highly skilled in their work.
Till now we have done more than 600 Html and WordPress conversion projects and covered more than 20 countries.
If we talk about only this year only, then we kicked 80+ projects.
Let's talk about us
Who we are?
SLICEmyPAGE is a team of Html and WordPress developers who slice design files (Photoshop, Sketch, Illustrator, XD, Figma, etc) into 100% hand-coded, w3c valid, pixel perfect, and responsive Html and WordPress theme using the latest Bootstrap for agencies, start-ups, designers, and freelancers around the globe since 2013.
We specialize in front-end development. In these 8 years, we have not only given good work to our clients but also earned positive feedbacks from them.
See what our clients told about our work-
"I was very impressed with the quality of work produced. The job was completed to specification, and they went above and beyond in bringing the PSD's to life. I will be using this contractor again."
David Ingram – Bring Digital, UK
"Thank you so much for finishing the job earlier than you had stated, and for doing a wonderful job. I hope to work with you again in the future!"
Heidi Jelev – Comcast, USA
Read more from our testimonial page.
Our products
Along with Html and WordPress conversion services, we have two more products that you can take advantage of. Let's talk about them
#1 – Tutorial and Tips
Learn.slicemypage.com is our tutorial and tips blog where we write articles related to our industry. These articles includes topics like HTML, CSS, jquery, WordPress, and many more. We also share our ideas and knowledge related to the industry. Visit our Tutorial and Tips blog today!
#2 – Template Shop
shop.SLICEmyPAGE.com is a marketplace where you will find Html Templates. All Templates developed by SLICEmyPAGE itself. Our Templates are always high quality, tested, and Easy to use. There are a number of templates available to download. Some are free and some are paid. These templates are designed to fulfill your business requirements. The best thing is that you can use those templates for your personal use and for your clients too. Visit our template shop today!
Thanks to all people who are connected with us and made us. None of this would be possible without all of our SLICEmyPAGE team members, past and present, who've poured their passion and talents into building this company.
We are also very grateful to all our clients and partners who gave us chance to prove ourselves!
Our vision at SLICEmyPAGE is to give the best service in front-end development to the world. We look forward to helping you accomplish much more in the years to come and growing the relationships that matter most. Thank you for being a part of our journey.
Do you have any design file that need to be converted into Html Website or WordPress theme? Let's Start today!