Marketing is one of the fields that is highly impacted by technology and changes in the world. A marketer needs to be updated with the latest trends and technologies to keep on performing. It is a form of internet marketing that involves creating and sharing content on social media networks in order to achieve your marketing and branding goals. Social media marketing includes activities like posting text and image updates, videos, and other content that drives audience engagement, as well as paid social media advertising.
Let's have a look-
1. Artificial Intelligence
Artificial intelligence will take over the world or at least the world's simpler jobs. On the other hand, Artificial Intelligence is impacting both the personal and professional aspects of a person's life. A study shows that the growth in external Artificial Intelligence investments is 3X, and Artificial Intelligence technology is rapidly improving. Artificial Intelligence can analyze consumer behavior and search patterns, utilizing data from social media platforms and blog posts to help businesses understand how users and customers find their products and services. For example, Facebook messenger bots (which we'll talk more about later) can help you automate and optimize your customer service.


2. Chatbots
A chatbot is an artificial intelligence (AI) software that can simulate a conversation (or a chat) with a user in natural language through messaging applications, websites, mobile apps or through the telephone.
Many customers prefer interacting with chatbots as they are responsive, give answers promptly, accurately recall your entire buying history, and never lose patience. These virtual assistants offer outstanding customer service, meeting customers' expectations and automating repetitive tasks – which means you can focus on more important work.
Pizza Hut uses chatbot technology to communicate with customers, they can easily order pizza for delivery or carryout from Facebook Messenger or Twitter. Customers can also reorder their favorite pizzas, ask questions, and see current deals. There are many companies which use chatbot technology like uber, google etc.let us see how pizza hut uses chatbot –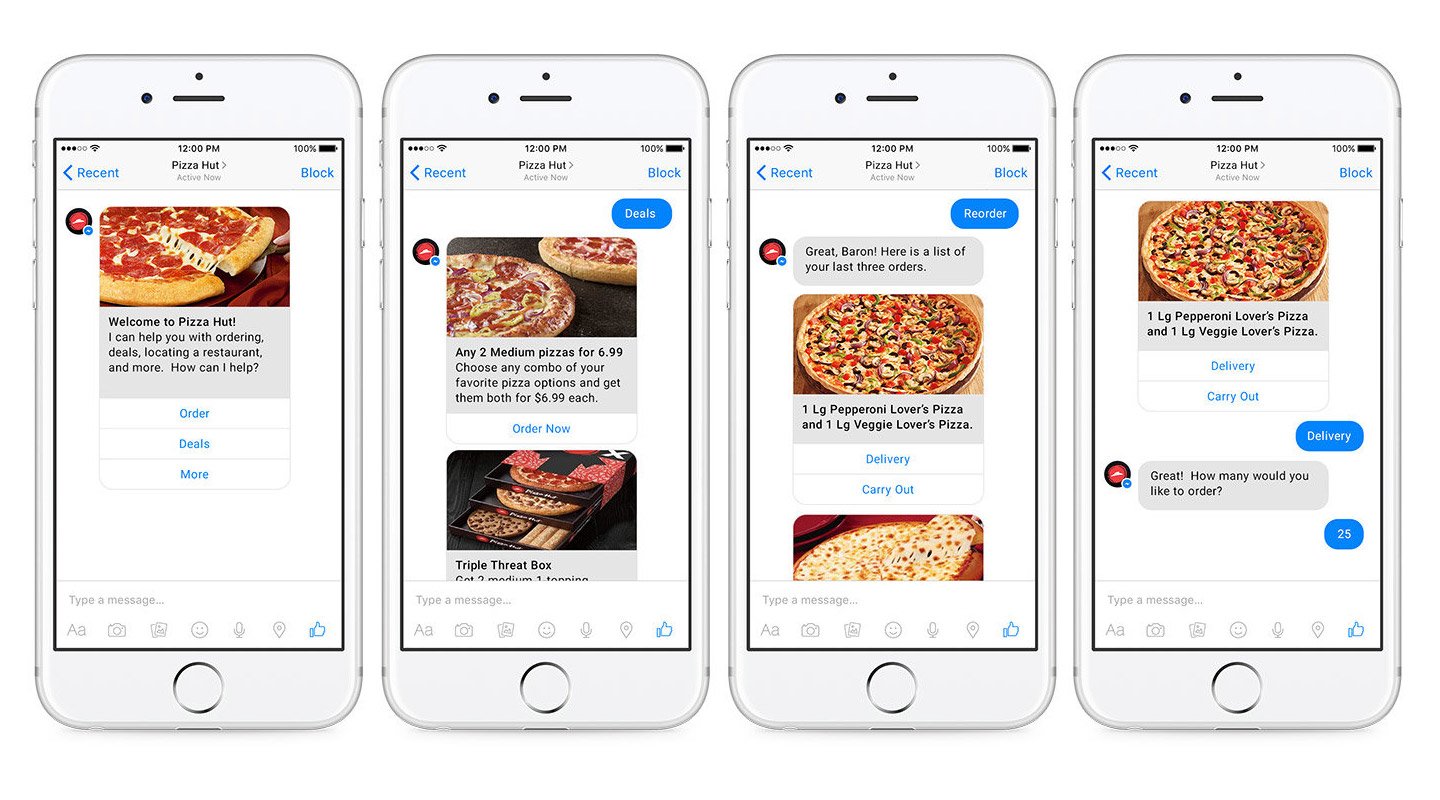 3. Personalization
Personalized marketing is the implementation of a strategy by which companies deliver individualized content to recipients through data collection, analysis, and the use of automation technology. Let's take a look at how these personalized ads affects our consumers.
Interacting with consumers and potential customers across social media networks can help increase customer satisfaction and brand loyalty. Not surprisingly, social media has quickly become the backbone of multichannel initiatives and has helped continue conversations online that keep brands on the minds of potential customers. By sending highly personalized and relevant social media messages through automation, marketers are able to collect responses and customer data from social media channels, which in turn helps improves communication and drive conversions.
Personalized marketing (or one-to-one marketing) can be defined in a number of ways, but at the most basic level, it can be explained as follows: If you want to stand out in 2019, you need to personalize your marketing – and that means personalized content, products, emails, and more. In fact, 96% of marketers believe that personalization advances customer relationships. Businesses like Netflix and Amazon are already leveraging the power of personalization.
4. Social Messaging Apps
This is great news for businesses. Messaging apps offer direct, personal, immediate connection to clients. No distractions, no algorithms, and no unnecessary downloads or logins. Automation allows both marketing and customer service to become more efficient and economical, all while providing an excellent service for customers. necessary downloads or logins. Automation allows both marketing and customer service to become more efficient and economical, all while providing an excellent service for customers.
Let's take at look how social media app uses increase day by day.
Think social messaging apps are just for sending emojis to your friends?
Consider these numbers:
1.3 billion monthly users are active on Facebook Messenger.
2 billion messages are sent between people and businesses on Facebook Messenger every month.
WhatsApp has 1.3 billion monthly active users.
55 billion messages are sent via WhatsApp every day.
Facebook or YouTube have more users than combined users of WhatsApp, Facebook Messenger and WeChat.
5. Social Media Stories
With the growing popularity of social media "stories," it is important for marketers to consider this format in their digital marketing strategy. Savvy marketers can even make use of live video, one of the most profitable social rollouts to date, to promote engagement and brand awareness.
First Snapchat came out with the concept of "My Story" then Instagram and Facebook stories were introduced and now YouTube has unveiled their own story format.
Since stories disappear after a set period of time, this is a great opportunity for marketers to make good use of FOMO (fear of missing out). You can feature your employees in the Stories, show the story behind the making of a product, ask for reviews about your products and services. Let's take a look at how we use stories to improve our business and it helps us a lot.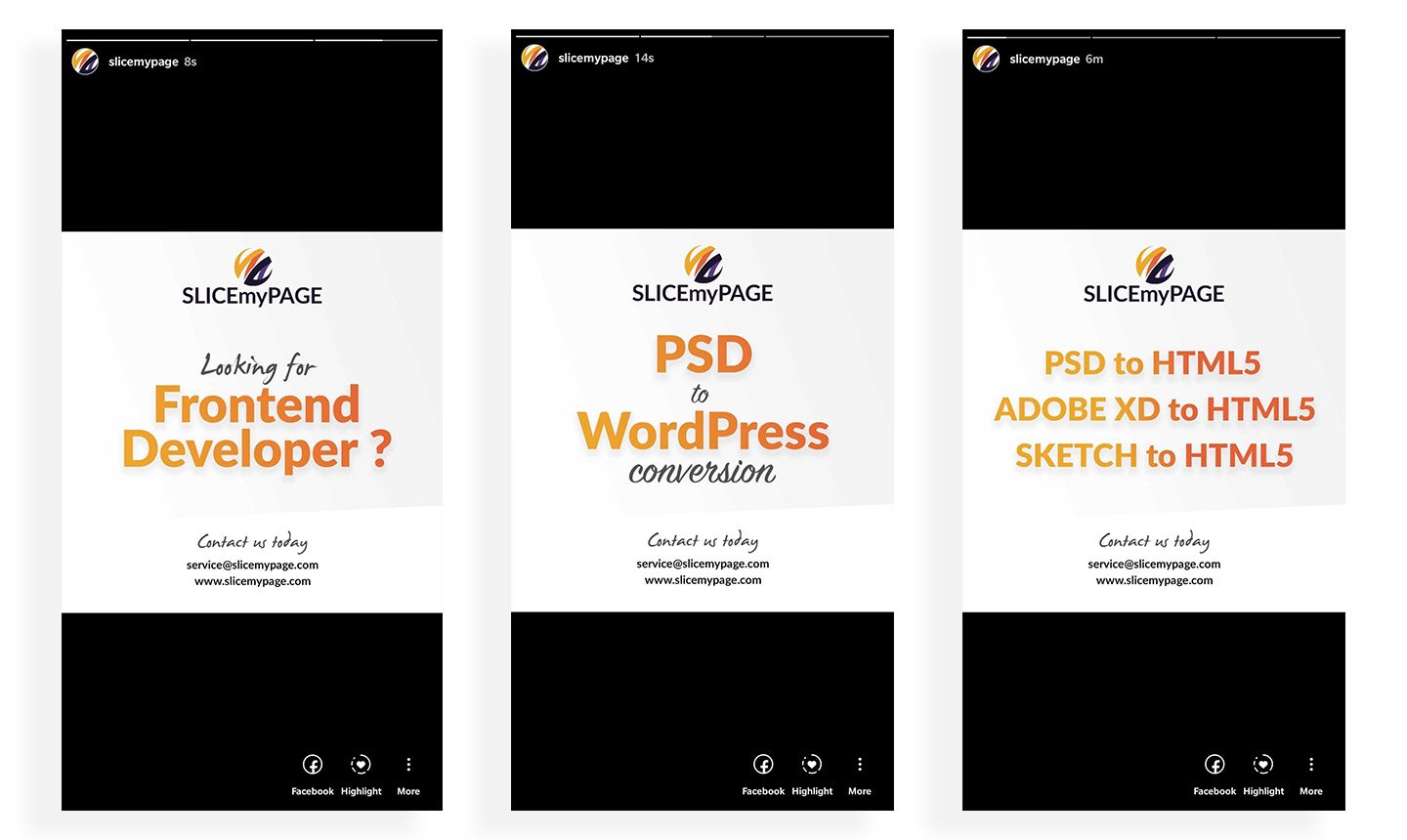 All the above social media marketing trends have one thing in common – they focus on improving the customer experience. All these trends will help entrepreneurs address social media users and connect people with their business model by providing a personalized experience. It's a great opportunity for those who invest in this kind of technology to stand out from their audience and create fun, engaging experiences for their target audience.